Hearing Products
Having choices when getting hearing aids helps out first-time users. They have a better chance of picking something with prioritized features. And for current users, having a full catalog of upgraded devices is much better than being limited to one brand. Total Hearing Care will go over these options in a personalized home visit, or with an appointment at the office.
Hearing Technology
Modern Solutions For All Types of Hearing Loss
Thanks to advances in technology, hearing products are designed to be more compatible with our lives than ever before. In addition to hearing aids, there are a number of products that make living and communicating with hearing loss easier to manage, so you never miss a beat.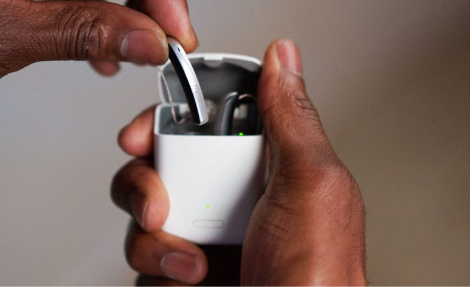 Hearing aid technology continues to evolve every year. Today, there are plenty of options on the market; all with different features and benefits at varying price points. After your hearing evaluation, our providers will help match you to the best device for your hearing loss, lifestyle and budget.
More on Hearing Aid Technology
There are many Hearing Aid Compatible (HAC) cell phone accessories that can enhance the experience of your hearing aids. These are products that work with the settings on your hearing aids that allow for features like Bluetooth connectivity, hands-free calling and more.
More on Cell Phone Accessories
Hearing aids are available in many different sizes and styles thanks to advancements in digital technology and miniaturization of the internal components. Many of today's hearing aids are considered sleek, compact, and innovative - offering solutions to a wide range of hearing aid wearers.
More on Hearing Aid Styles
Hearing Product Guide
Curious About Hearing Technology, but Not Sure Where to Start?
With so many styles and options, it can be difficult to know which products will suit your needs. Our Consumer Guide to Hearing Aids provides an in-depth breakdown of the different types of hearing devices, as well as the technology available for all types of hearing loss.
Hearing Aid Manufacturers
Hearing Products Created by the Best in the Industry
When it comes to hearing loss, you need a device you can rely on to perform its best. That's why we carry products from manufacturers with a proven track record of exceptional quality. No matter your budget, lifestyle or type of hearing loss, we have a product to meet your needs.
Hearing Protection
Make Protection a Priority
Protecting your ears from noise damage is essential to healthy hearing. We carry a wide variety of options equipped with the latest features and customizations, so you can find the best fit for your lifestyle.
Since the various systems produce different hearing impressions, it is important for you to make a comparison yourself. For this purpose we will produce custom-made earmolds based on the exact contours of your ears. We can then ensure that your hearing aid fits perfectly.
More on Custom Earmolds and Earplugs
Constant loud noises on a daily basis can damage long-term hearing. Hearing protection is available in the form of earplugs, and they are catered to the specific hobby or profession that patients participate in.
More on Hearing Protection
Musicians practice and perform in a variety of different settings. They are exposed to high levels of sound, sometimes for long periods, which may put them at risk for permanent hearing damage. Musician's ear plugs are custom-made devices that help to limit the sound exposure from instruments, while still providing a rich musical experience for the performer or audience.
More on Musicians Earplugs and Monitors